Design and Analysis Technologies
Technology
Simulation using our company's unique calculations of strengths and shapes produces excellent carbon golf club shafts.
Design System
We select materials and design fiber orientation and resin content rate to produce shafts in line with shaft characteristics obtained by simulation.
We develop our own materials, which allows us to produce a variety of designs.

High-precision manufacturing technology lies behind the high-precision design.

Detailed analysis ensures sophisticated design.
Material Technology
From polymer to fiber, our technical capabilities to develop all of materials open infinite possibilities of golf club shafts.
Manufacturing Technology
Our unique autoclave manufacturing methods and FRP precision molding techniques of top craftsmen have enabled us to manufacture high precision and quality shafts.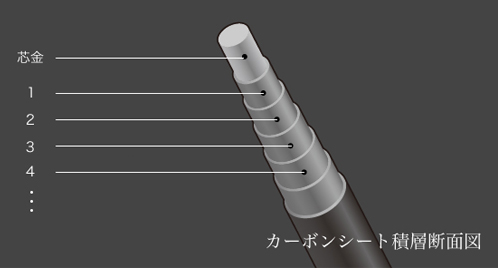 The carbon that is used in carbon shafts has a property that hardens when heat is applied (such as when cured in an autoclave). We use this property to manufacture our shafts.

Most carbon shafts currently on the market are fabricated by wrapping the core metal (or mandrel) with a prepreg (a thermal shrinkable carbon sheet), and then cured in an oven.The core metal is wrapped with thermal shrinkable tape because tension is usually insufficient under 1 atm. However, removal of the tape causes unevenness on the surface of the shaft. This method requires the grinding of the shaft to remove any unevenness and to make it perfectly round. The process often results in individual variabilities in elasticity and rigidity.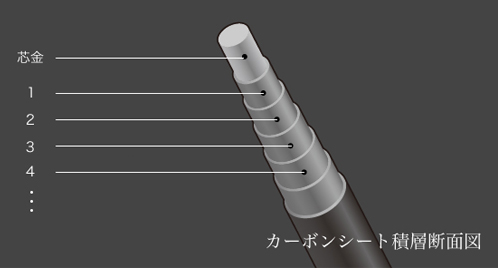 IMIDE AND SUNS manufacturing method is the same up till the point of wrapping the core metal with the prepreg. (The core metal itself is designed and fabricated to a high accuracy.)
Then we use exclusive molds for curing in an autoclave large enough to apply 6 to 10 atm to the molds without using thermal shrinkable tape.
This way, the shafts do not have unevenness on their surface after curing. Without unevenness, the processes of grinding and painting the surface are no longer required, and as a result, each one of our shafts is fabricated in line with its intended design. As with the standard quality in the field of aerospace, grinding of the carbon does not take place.
Differences in manufacturing methods

IMIDE AND SUNS manufacturing method

IMIDE AND SUNS manufacturing method
1. Exclusive curing molds

We use exclusive curing molds.

2. Curing in an autoclave

Shafts are cured at 6-10 atm.

4. No coating

In order to have a feel for the carbon material, no coating is used.
Close
General manufacturing methods
(Our research)
General manufacturing methods (our research)
1. Shrinkable tape

Tension is applied by wrapping the core metal with shrinkable tape.

2. Curing in an oven

Shafts are cured at 1 atm.

3. Grinding

Removing the tape causes unevenness on the surface. To satisfy individual specifications, the entire shaft is ground.

4. Coating is used

Coating is added on top of the carbon, increasing the weight of the shaft.
Close
Benefits of IMIDE AND SUNS Manufacturing Method
To fabricate a shaft in line with its characteristics as obtained through simulation, we select materials, orientation of fibers and content rates of fibers and resin.
No variation

• Clubs are formed in line with specifications. External form and inner diameter are consistent.

Principles on improving carry distance through weight reduction

V1: head speed V2 ': initial ball speed M: head weight
m: ball weight e: coefficient of restitution

Lighter shaft = Longer carry distance

Why flex remains the same with a lighter shaft
• No coating reduces weight by 3-4g.
• Curing in an autoclave minimizes the amount of resin.
• Optimum lightweight design.